Member Spotlight: Srihari Jaganathan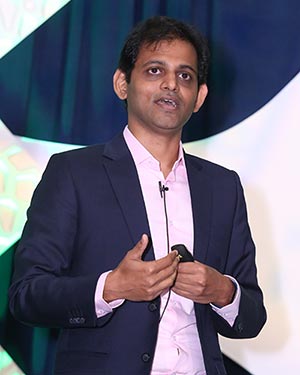 This month's spotlight focuses on Srihari Jaganathan, UCB, in recognition of the contributions he has made to the field. Srihari was awarded the Best Podium Presentation award at the PMSA 2017 Annual Conference. Srihari was also recently awarded a Gold Medal by the Academy of Managed Care Pharmacy at their 2017 conference for his work in demonstrating that the nursing intervention program he helped develop has simultaneously improved adherence and reduced health care and hospitalization costs. The nursing intervention program is used by several hundred physicians and several thousand patients across the country. He is one of the first researchers to have linked claims data with a nurse intervention program to demonstrate the effectiveness of the program. His research focused on programs that control cost and improve outcomes. Srihari's research has appeared in multiple peer-reviewed international conferences and Journals.
PMSA: How many years have you been in the industry?
Srihari Jaganathan: I have been practicing analytics and forecasting, including pharmaceutical analytics, and operations research for over ten years. My primary responsibilities include advanced analytics, statistical modeling, and health economics and outcomes research, to make patients' lives better.
PMSA: What attracted you to the field?
SJ: After completing my graduate degree in engineering, with an emphasis on operations research, my very first job was in the pharmaceutical industry. Healthcare amounts to 1/6th of the US economy and it has several problems associated with rising costs and accessibility for patients suffering from chronic health conditions. There is tremendous opportunity to apply management science principles to help improve the lives of patients. This motivated me to start my career in this field.
PMSA: How did you first hear about PMSA?
SJ: PMSA is at the forefront of disseminating research critical to pharmaceutical analytics professionals. I learned about PMSA at the beginning of my career when one of my colleagues attended a conference, and ever since I have been closely following the conference proceedings.
PMSA: How many years have you attended the PMSA conference?
SJ: This is my first year attending the conference, and I look forward to attending many more.
PMSA: What did you enjoy the most about this year's conference?
SJ: The PMSA conference is one of the premier conferences for sharing knowledge and the latest developments in the field of pharmaceutical analytics. Learning the current issues and practical applications is extremely helpful. I also enjoyed meeting some of the greatest minds in this field during the conference.
PMSA: How was the experience to present in front of the PMSA audience? Any advice for future presenters?
SJ: I felt honored to be selected to present in this highly competitive conference. I had a wonderful experience sharing some of the cutting edge research that we did to demonstrate the effectiveness of our patient intervention program that helped improve patient outcomes and reduce health care costs. This research was also recognized by the Academy of Managed Care Pharmacy. We received the Gold Medal at their 2017 conference, and I was thrilled to learn that I won the best podium presentation at this year's PMSA conference. This sort of recognition from my peers is particularly gratifying.
PMSA: Please describe any current projects you are excited about.
SJ: I'm currently focused on generating real world evidence (RWE) on pharmaceutical intervention and demonstrating its effectiveness to the broad healthcare community, such as managed care organizations, health care practitioners and patients. I'm specifically excited because we can apply advanced research skills to these projects.
PMSA: Do you have any predictions for the future?
SJ: The Centers for Medicare and Medicaid services estimated that in 2015, national health care spending in the U.S. reached $3.2 trillion dollars or $9,990 per person1; at the same time, according to the Commonwealth fund report, in spite of the US spending far more than any other high income countries, Americans had poor health outcomes2. A 2011 Harvard Business Review article stated that a remedy for the cost crisis is to develop new ways to accurately measure the costs of health care and compare them with patient outcomes3. I personally think that this area will be front and center for the health care industry and the pharmaceutical industry specifically. Thus, PMSA and pharmaceutical analytics professionals are uniquely positioned to play a critical role in this space. Our research can be transformational in terms of healthcare spending and outcomes—this is one of the goals of my ongoing research, in particular.
PMSA: What do you like to do during your free time?
SJ: I enjoy reading books and cooking a wide variety of cuisines. I also like to spend time with my fast growing kids.
PMSA: Thank you, Srihari!

---

1 https://www.cms.gov/Research-Statistics-Data-and-Systems/Statistics-Trends-and-Reports/NationalHealthExpendData/Downloads/highlights.pdf
2 http://www.commonwealthfund.org/publications/issue-briefs/2015/oct/us-health-care-from-a-global-perspective
3 https://hbr.org/2011/09/how-to-solve-the-cost-crisis-in-health-care