Member Spotlight: Shubham Lahoti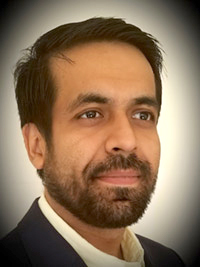 This month's spotlight focuses on Shubham Lahoti, Axtria, who recently was awarded the Best Poster Presentation Award at the 2018 PMSA Annual Conference.
Shubham Lahoti has more than 11 years of experience in analytics, modeling, and technology projects with close to 6 years in sales and marketing optimization in the pharma industry. Shubham has managed several sales force analytics projects that involve multi-channel promotional analysis and optimization. He holds a bachelors degree from IIT Bombay.
PMSA: How many years have you been in the industry?
Shubham Lahoti: I have been in pharma analytics for more than 6 years. Prior to that, I have worked in insurance analytics and telecom for 5+ years.
PMSA: What attracted you to the field?
SL: I was always good with numbers and patterns; hence, analytics was a natural career choice for me. After working in a couple of industries, I got a chance to work in pharma. The exciting thing about the pharma industry is that the work I do makes real change in the lives of people. The choices we make directly or indirectly significantly impact others and it gives you satisfaction that you have done something meaningful.
PMSA: How did you first hear about PMSA?
SL: I heard about PMSA after I joined Axtria.
PMSA: How many years have you attended the PMSA conference?
SL: This year (2018) was my first time at PMSA. And, it was really a great learning experience!
PMSA: Please describe any current projects you are excited about.
SL: I am applying unsupervised machine learning in analytics projects specifically focusing on multi-channel response measurement and optimization. The aim is to build models that can provide real-time insights with minimal human supervision and eventually, expedite the decision-making process.
PMSA: Do you have any predictions for the future?
SL: It is no secret that the data is exploding and everyone wants to use that data for insights. Use of machine learning, AI, and other unsupervised analytics techniques to gather insights will become common, and business consumers will expect a quicker implementation of those insights. I foresee significant investment in developing better data management and integration capabilities from multiple data sources. It will then not only assist the state-of-the-art modeling exercises but also assist pharma companies in making dynamic personalized marketing decisions.
PMSA: What do you like to do during your free time?
SL: Out of my 'n' number of interests, one that is the oddest & oldest is my habit of collecting matchboxes. I have more than 2,000 unique matchboxes. But, with the advent of lighters as well as fewer people smoking, it is becoming increasingly hard to get new additions to my collection!
PMSA: Thank you, Shubham!