Member Spotlight: Nadia Tantsyura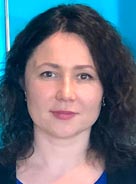 This month's spotlight focuses on Nadia Tantsyura. Nadia serves as Sr. Associate Director, Data Strategy and Innovation (Analytics and Insights) at Boehringer Ingelheim. In this role, she leads innovative analytics projects in the areas of Market Access, Payor and Digital Analytics. Nadia is a member of the PMSA 2019 Conference Program Committee.
PMSA: How many years have you been in the industry?
Nadia Tantsyura: I have been in the pharmaceutical industry for 14 years. My experience spans application development and data warehousing to advanced analytics.
PMSA: What attracted you to the field?
NT: I like solving problems. I started in IT, building data warehouses and designing data marts, and later was invited to join the advanced analytics group. It was the best career move that I could have made. I absolutely love working on complex problems looking for hidden information and patterns, and transforming raw data into useful and actionable business insights. Most importantly, I see that my work has real impact on the lives of patients.
PMSA: How did you first hear about PMSA?
NT: I wanted to learn more about emerging industry trends so I asked my colleagues for their recommendations. PMSA was their top choice.
PMSA: How many years have you attended the PMSA conference?
NT: This year will be my second year attending the conference. I enjoy connecting with so many bright people and bouncing ideas off each other.
PMSA: Please describe any current projects you are excited about.
NT: My focus this year is to deliver advanced analytics solutions to drive our Market Access and Digital strategies. We are building a data-driven decision-making tool to optimize our market access investments at both the state and national levels. We want to ensure that we have solid programs in place to help our patients get on and stay on therapy. To support the digital transformation journey, we will be focusing on owned channel optimization by finding cost-effective opportunities to engage target audiences and deliver personalized customer experiences by leveraging channel and content affinity data as well as learnings from A/B tests.
PMSA: Do you have any predictions for the future?
NT: I believe that there will be more innovative products with stronger efficacy profiles coming to the market and intense competition from generics. We should expect copay accumulator adoption in primary care as well as additional restrictions around the copay card programs. Pharma should prepare for and react to new pricing policies. Moreover, as the new industry trends emerge, the demand for data scientists will continue to grow. What makes data science so exciting is how fast it is evolving, so we have to continue learning to keep up. If you're not moving forward, you're falling behind.
PMSA: Thank you, Nadia!