Member Spotlight: Christy Gaughan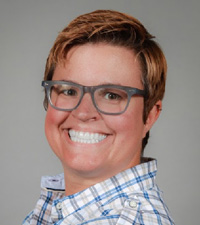 This's month's Member Spotlight focuses on Christy Gaughan, Senior Director, Marketing Science, Genentech.
PMSA: How many years have you been in the industry?
Christy Gaughan: I started doing promotional effectiveness work at Campbell Soup Company just shy of 20-years ago. From there, I became a Biostatistician doing medical research at University of Pennsylvania. After that, I spent 3-years at IMS Health, and I've been at Genentech now for 9 years.
PMSA: What attracted you to the field?
CG: I believe that strong business decisions are made with guidance from objective, data-driven analytics. The Marketing Science function sits at the very heart of advanced analytics, strategic agility, and influencing business decisions. The intersection of all three of these is a sweet spot for doing the things I am passionate about.
PMSA: How did you first hear about PMSA?
CG: I first heard about PMSA while I was at IMS Health, but I first attended PMSA 7 years ago, when I joined the Marketing Science team at Genentech.
PMSA: How many years have you attended the PMSA conference?
CG: Four. I've tried to attend every year, but, some years, work commitments have gotten in the way. I really wanted to attend last year, but I needed to be in Paris for a meeting, and there was no way for me to fly from Las Vegas to Paris in time.
PMSA: Do you have any recommendations to make PMSA more effective?
CG: Spend time talking to people. The real meeting takes place through interactions with each other, through us being curious with each other, to better help our patients. We become stronger by connecting the dots between projects and analysis, to see new ways to look at and solve problems.
PMSA: Please describe any current projects you are excited about.
CG: While I don't view this as a project, the part of my job that gets me out of bed, energized, each morning is developing the people on my team to be strong leaders. I believe that people with strong math skills, or "Math Geeks," like myself, make strong leaders. My passion really lies in unlocking those leadership skills, whether it is an individual contributor that needs help being more influential, or a new front line manager giving critical feedback for the first time, or someone that just took over a 15- person team and is developing their own identity. I am truly amazed and humbled by how much growth takes place across my 60-person team over time.
As far as projects go, some of the exciting things that my team is working on are:
The launch of a new analytical platform that leverages big data technologies, that is reducing data management for my team and that is unlocking our data for some of our non-programming, analytical peers through visualization tools
A newly developed marketing mix methodology to better inform resource allocation at all levels of the organization, across all of our brands
Explorations into new data sources, like EMR data
PMSA: Do you have any predictions for the future?
CG: I truly believe that the work that a Marketing Scientist does helps our patients. With the recent explosion of big data technologies, there are so many possibilities to bring together analysis and just do really cool analytics. I'm also excited by the advancement of the breadth of skills that people with advanced analytical skills have. One of my favorite books is Daniel Pink's Whole New Mind. In this book, he writes about how just having strong analytical skills is no longer sufficient. We need to be able to synthesize all of this information into stories that connect with our stakeholders. I agree, the combinations of these skills are absolutely critical. It has been fun watching this unfold across our discipline. I believe that all of this will help our industry get the right therapies to the right patients for the right costs.
PMSA: What are your hobbies?
CG: I have a lot of ways that I like to spend my time outside of work: cycling, hiking, SoulCycle, dinner with great conversation and friends, reading a lot of non-fiction, meditation, attempting to snowboard, traveling, and just spending time with my wife Melissa and dog Gladyce.
PMSA: Thank you, Christy!